GRAPHIC NOVEL AND SEQUENTIAL ART WORKSHOPS
You can schedule classes and workshops with Barbara Slate on all aspects of creating, writing and drawing comic books and graphic novels. All levels of training and experience can be addressed, from teen workshops to art school and university courses. Four classes minimum to a full fifteen class semester or 30 class, two-semester program.

Below: Front page of the Register-Star, March 27, 2006: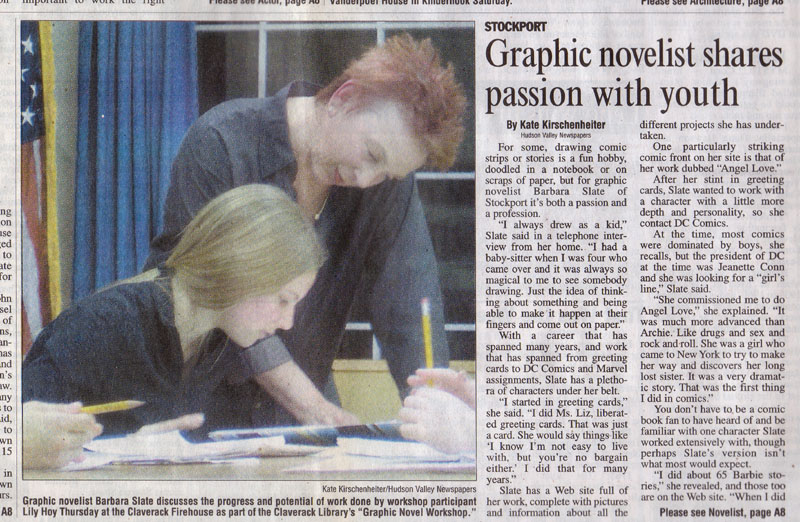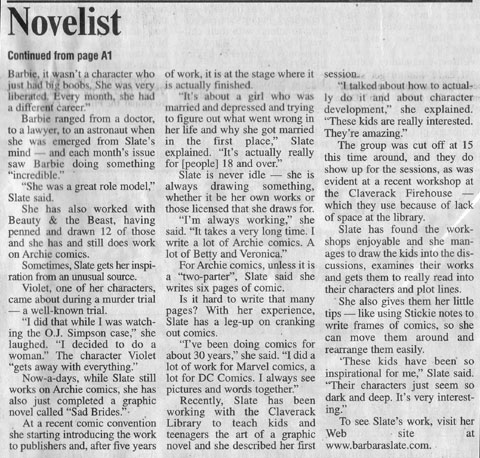 Here's what participants in the above workshop wrote about it:

Lillie: I definitely enjoyed the workshop. Before I thought of cartooning as a difficult, almost impossible writing and drawing process, but Barbara made the steps so clear it made creating cartoons possible. I liked working with so many intelligent and talented participants. Since I am home schooled, I found it motivating to work with Barbara and the class. The exercises she gave us helped me to keep working. I found myself motivated to think about, and to try, and to work on my cartoons.

Wren: I have been reading comics all my life, but have never known someone who created them. It was awesome to meet her. It was inspiring the way Barbara explained the complicated process of cartooning and made things clear and simple.

And parents of the students wrote:

Paul (Alex?s father): I feel very positive and enthusiastic about the workshop. It has increased Alex?s interest in the art form and I see the influence of the workshop in his other artwork as well. As a teacher, Barbara has good engagement with the students and worked with them in a non-judgmental manner.

Lori (Angelica?s stepmother): The workshop has helped Angelica to pay more attention to detail. I also saw her develop more depth in her thinking when she created a character. She tends to be a shy person and drawing and writing gives her an outlet. I feel the workshop has been an answer to a prayer in bringing her out of her shell. Thank you Barbara from the bottom of my heart.

TO SCHEDULE A WORKSHOP WITH BARBARA SLATE, PLEASE GO TO THE WORKSHOPS PAGE.